Posted 11 March 2018
Below are some great photos (click to enlarge) sent by Wie Gik, showing some great learning and teaching at SD2 Pegadungan. In this lesson, students are making sentences about family.
Example:
Ayah saya tampan (My father is handsome)
News from Dalkeith PS partnership
Posted on December 10, 2016 by Lis Turner
As always the day started with a wonderful welcome at the kindy. The principal, Ibu Sudarmi, and Dwi the English teacher led the students in songs and action games. The enthusiasm and happiness of all was on full display. This was the 5 year old group, there is also one for 4 year olds. They each attend for an hour 6 days a week. The ceilings extensively repaired with Dalkeith and donation funds are in good condition. They are however in current need of their printer being repaired.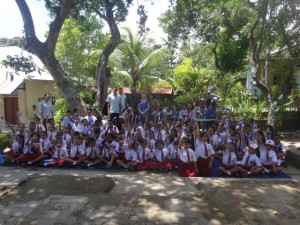 My visit to Pegadungan SD2 was more relaxed as I was alone and they were on holidays for the major Hindu ceremonies of Galungan and Kuningan. No VIPs meant the assembly was under a shady tree. Most of the primary students were there and many of the sponsored high school ones, and all in their uniforms! Jati was there with her 2 children to greet me. The staff remains constant, I have met many for 12 years.
Gede Naya, the principal, thanked Dalkeith for their continued support. A welcome and other dances were performed then students spoke and sang in English, a lot of work for Dwi. As for the kindy a meaningful purpose to use English is a good motivator for learning. I am always astonished at how much the older students grow each year. After a shared lunch prepared by the deputy, Ibu Komang, and parents we had a meeting about Dwi's possible visit to WA next year. This could develop into an Educational and Cultural exchange program.
Walking around the school I was able to reflect on the many improvements facilitated by Dalkeith Primary School. Of the recent ones the sick bay, bitumen playground and toilet upgrade were all in good condition and well used. The government after 3 years has still not replaced the hall ceiling, the area has movable partitions and is used for 3 classrooms. Overall the school looks attractive and is well maintained.
Next I visited Jati's family in the village. Dony is a confident 8 year old in Class 2 and doing well. Mashya is now 1 with a bubbly and happy nature. Jati's mum and dad both looked in better health. I was delighted to meet Putu Mega there and Budi, sponsored students who have graduated. Next was an invitation to visit with Dwi's family. Both her parents are in high schools, it was clear why Dwi is so motivated! They are very supportive of any opportunity for her to come to WA.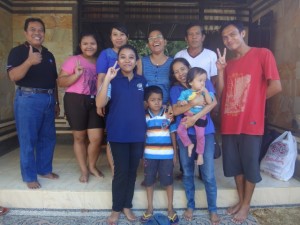 It was a successful visit maintaining the sister school and sponsorship connections that are well established.
Thank you for your continued support, Sue Elliott.